Wish You Weren't Here Roger Waters
Can it be any more obvious? Roger Waters is a NeoNazi. Plain and Simple.
Roger Waters could care less about the Palestinians as he has shown over and over.. when Palestinians kill each other in a civil war between Hamas and PA - he doesn't condemn the violence, he instead roots for Hamas who share the same objective - Destroy Israel and the Jewish People by DeHumanizing and
DeLegitimzing Jews and Israel via Cultural Boycotts and Violence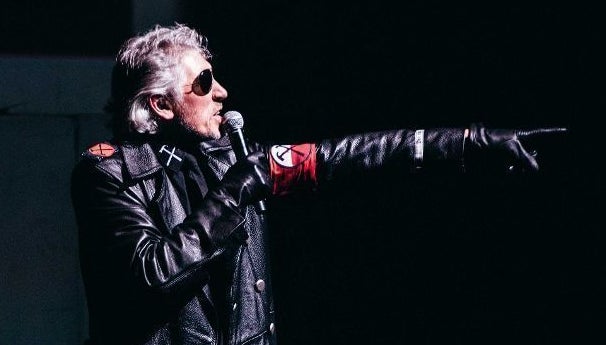 https://www.huffingtonpost.com/entry/wish-you-werent-here-roger-waters_us_593f95ffe4b014ae8c69e3b1
A
A group calling itself "We Don't Need no Roger Waters" are calling for a boycott of musician Roger Waters.
The
Change.org petition
wants a worldwide boycott of Waters until he renounces antisemitism and
the unjust boycott of the State of Israel.
The former frontman for Pink Floyd has increasingly used his rock-star status to defame and call for the boycott of Israel.
He infamously flew a pig drone painted with swastikas and Stars of David at his concerts in 2013.
Waters screens anti-Israel film clips during his live shows and viciously attacks any artist that chooses to perform in Israel.
Waters isn't just anti-Israel, say his detractors, he's actually a Jew-hater.
They are firing back against his supporters by countering that Waters is not just anti-Israel,
but actually a racist who espouses bigotry and anti-Jewish conspiracy theories.
According to the filmmakers, "Wish You Weren't Here is a shocking, explosive and compelling film by
award winning filmmaker/No.1 NY Times bestselling author Ian Halperin."
The film sets out to answer such questions as is Roger Waters an anti-Semite?
Halperin, who is the son of a Holocaust survivor, traveled for two years researching his story, and the film includes interviews
with leading figures such as including Ambassador Ronald S. Lauder, Pope Francis, Haras Rafiq, Palestinian and Israeli leaders,
U.S., British and French government officials, The Chief Rabbi of Ukraine, Alan Dershowitz and Dr. Charles Small.
Instead of using music to build bridges and foster peace, it seems that Waters is actually another brick in the wall.